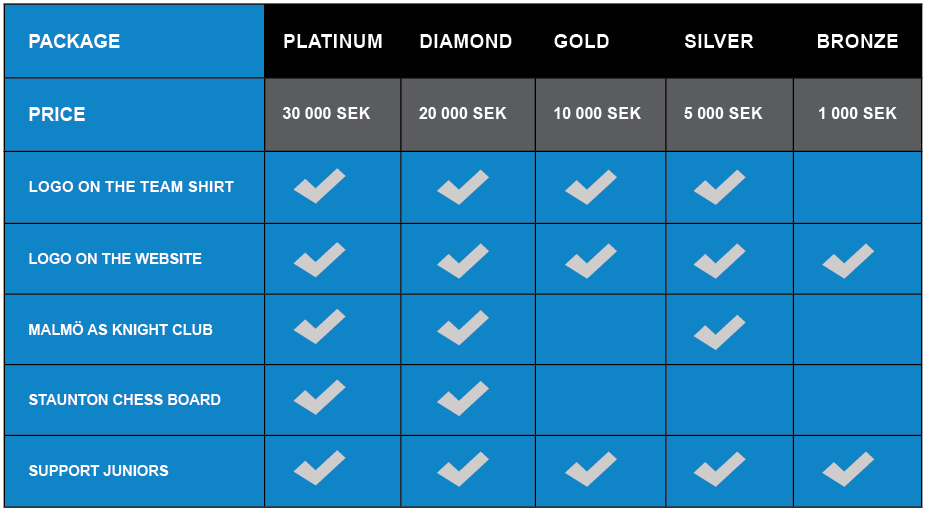 MATCH SHIRT
Having your logotype on our match shirts is one of the great benefits when sponsoring Malmö AS Chess.
All our chess players in the Premium League are wearing these shirts and will advertise your company wherever they paly. Also our board members and sales representatives will help you with networking and finding new business opportunities for your company!
With the Platinum package you will get the best place in the back of the shirt.
If you prefer the Diamond package, your company will get your logotype next to the Malmö AS Chess logotype on the shirt's front.
If you select our Gold package, you will get your logo on the left or right sleeve, as you prefer.
WHY SHOULD YOU BECOME A SPONSOR?
As a sponsor of the club, you contribute to help our young people in a game that trains them in logical thinking and strategy. Several independent studies show that chess increases people's ability to solve various mathematical and logical problems. Other positive effects include improved concentration and enhanced visualisation capabilities.
Furthermore you will be given the opportunity to meet and play with any of our Grand Masters of chess! You might be curious to talk memories with GM Ulf Andersson? Or maybe you want to test your chess skills with our newly crowned Olympic champion GM Baadur Jobava?